Dematerialization of supplier invoices
OpenText™ Vendor Invoice Management for SAP® Solutions
Fast, accurate and efficient processing of vendor invoices is the best way to improve business productivity, cash flow and relationships with your suppliers. OpenText™ Vendor Invoice Management for SAP® automates the processing of vendor invoices via native SAP interfaces. Integrating OCR, machine learning (AI) and reconciliation technology with SAP ERP databases, the solution identifies suppliers and supports the nature of invoices with or without orders. As a result, OpenText™ Vendor Invoice Management for SAP® drastically eliminates manual data entry for incoming invoices, reducing any business risk, and ensures payment on time through a workflow of control and approval between different business users.
Master the process of managing supplier invoices
Omni-channel retrieval of invoices sent by post, by email and as an EDI-type electronic flow or by a government platform in UBL/XML format.
Conversion and indexing in SAP of data retrieved from the invoice, machine learning and reconciliation with SAP master data. The metadata or index data is validated against the SAP database.
The captured data is checked, enriched and completed to ensure that the invoice is consistent with the SAP data.
A control workflow is triggered according to the business rules applied in order to manage discrepancies: duplication of an invoice, a quantity or price defect, designation of ordered items.
Collaborative management between users from different departments through a cockpit to process the invoice and enrich its data until final approval.
The invoice is in posted status and awaiting payment according to the accounting department's procedure.
Processing of multi-support invoices at all levels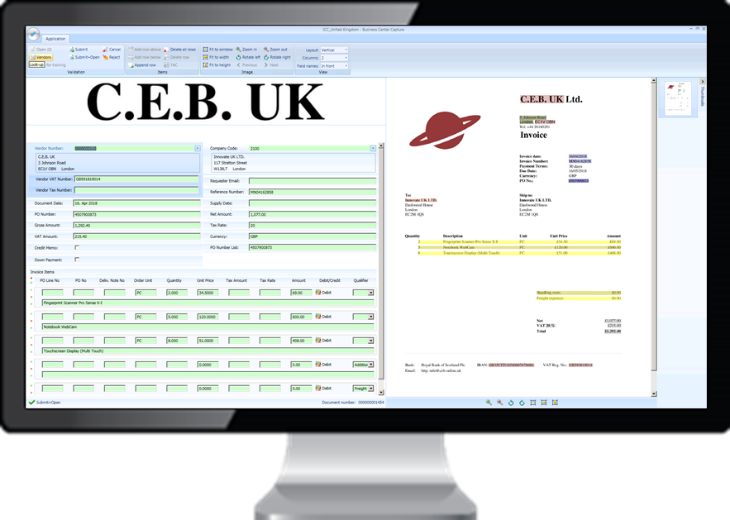 Treatment reporting and monitoring
Benefits of the solution :
Optimal integration into the SAP environment (Add-on).

Reduction in the time taken to pay suppliers.

Historical record and traceability of actions carried out by users on the invoice (PAF).

Collaborative management of invoice processing and follow-up via SAP workflows.

Acceleration of accounts payable processes.

Reducing costs while improving productivity.

Global vision and accurate reporting of invoice processing.

Provision of a platform for suppliers to monitor the status of invoices.

Improved cash management by streamlining the payment process.
Reduction of labor costs by 60%.

95% reduction in Supplier information requests.

50% reduction in processing cost per supplier invoice.

90% reduction in losses related to late payment penalties.

40% increase in productivity.

Implemented over an average of 12 weeks.

Full integration with SAP.
These datas come from  OpenText Clients
BCSolutions supports you !
With our expertise and project experience, we can help you set up your project.
From analysis to deployment, we will take care of all phases of your project.